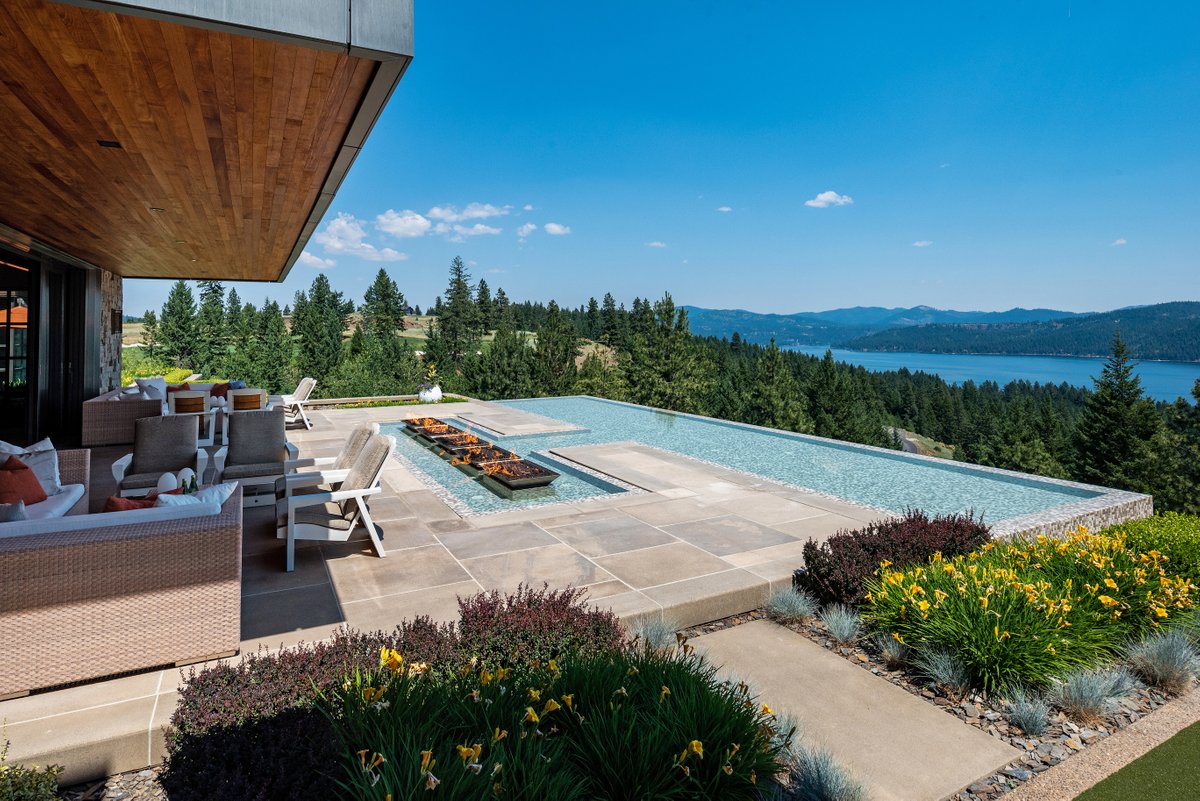 12/13/21
Real estate is not a market typically prone to wild swings in either direction. The exception was last year, as the pandemic drove luxury buyers to make moves to new locations in resort spots like Coeur d'Alene in North Idaho. The Wall Street Journal and Realtor.com ranked as the country's top emerging housing market earlier this year; it shouldn't come as a surprise, given how many people were looking for tranquil alternatives to big-city life over the past 18 months. Situated just east of Spokane, Wash., the quiet mountain town is an outdoor enthusiast's haven filled with hiking trails, world-class golfing and water sports galore.
Greg Rowley, a native north Idahoan and a former golf pro-turned-real-estate-master for Coldwell Banker Schneidmiller Realty, had never seen anything like the demand he witnessed in 2020: "Buyers were making purchases sight unseen and only relying on virtual technology or video. Multiple offers were being made on some homes as soon as they were listed. Inventory went from a few months' worth to a few weeks' worth." Prices in Kootenai County, where Coeur d'Alene is located, shot up nearly 40% from fall 2020 to fall 2021, according to the Coeur d'Alene Association of Realtors. Rowley's own sales volume as a Coldwell Banker Global Luxury® Property Specialist also hit an all-time high — which is saying a lot for a 10-year real estate veteran who has already won a number of production awards and industry accolades. He closed 2020 with $160 million in sales volume and is set to surpass that figure with close to $200 million in sales volume this year — a career-best. This year, he sold Copper Rock Estate, listed at $22 million in 2021 — the highest sale of the year for Coeur d'Alene. He also listed a $30 million contemporary stunner known as the Pynewoods Estate over the summer; if it sells close to asking price, it will set another record for the area. Now, he says the market has "plateaued," settling into what he considers a normal pace — albeit with tighter luxury property inventory than ever before. We recently caught up with Rowley for "TrendTalk" to ask him about his insights and expectations for the luxe lakeside locale as we head into 2022. Copper Rock Estate
Coldwell Banker Global Luxury What's your take on what was behind all of the demand in 2020?
Greg Rowley I could sense the wave of people considering moving to the area in the spring of 2020. Then, once most other states began to allow travel and other COVID restrictions were lifted, things really got crazy around here. What we learned from COVID is that many workers can be productive working remotely, from home or other locations outside of the traditional office setting. This allowed so many people to choose to live where they want to, not just live where they have to because of their work. To many, it's an easy choice.
Coldwell Banker Global Luxury How many of your buyers are second homeowners vs. permanent residents?
Greg Rowley I work in a unique market segment where most of my buyer-clients are purchasing a second home. I would estimate about 60-70% of my business, but certainly not all. I've sold many, many vacant lots over the past couple of years to folks who intend to eventually build a permanent home here.
Coldwell Banker Global Luxury How many are out-of-state buyers looking to escape big city life in Coeur d'Alene?
Greg Rowley The largest group of out of state buyers is coming from California. There's also been quiet a few buyers from the Seattle and Portland areas specifically. Many of the luxury buyers are definitely either retirees, or soon-to-be retirees.
Coldwell Banker Global Luxury How have all of these changes manifested in the market?
Greg Rowley The market has changed pretty drastically. Inventory is at an all-time low, and prices have risen beyond what many of us locals ever thought possible. When I first started selling homes, we would have to intentionally narrow a buyer's list to 10 or so homes to view. The strategy was to offer well less than the asking price, knowing there were other options if an offer wasn't accepted. It put a lot of pressure on sellers to take an amount for less than they had hoped to get. Now, it's difficult to find anything to show a buyer client that checks most or all of their boxes. It's typical to go look at only a couple homes with a buyer now. And if it's of interest, an offer most likely needs to be at or near full asking price to get an acceptance. The biggest change is the number of homes that are being purchased sight unseen. I've sold a number of homes by means of a virtual tour or video walkthrough.
Coldwell Banker Global Luxury] Has the luxury price threshold in Coeur d'Alene risen significantly on account of all of this?
Greg Rowley Luxury is defined as the top 5% of sales in a given market. In North Idaho, that value has risen dramatically. In 2019, the luxury price threshold was around $749,000. In 2020, it was $980,000. This year, it's $1.32 million.
Coldwell Banker Global Luxury What areas or properties are most in-demand?
Greg Rowley In general, the lower the price point, the higher the demand and the larger the potential buyer pool. Entry-level housing for first time homebuyers has really dried up. So in my opinion, I think affordable housing is likely always the market segment that's in highest demand. But in terms of what's most in demand in the luxury market, it's definitely waterfront properties. Inventory on the three primary bodies of water — Coeur d'Alene Lake, Hayden Lake and Spokane River — is very scarce.
Coldwell Banker Global Luxury In terms of new construction, have you seen a noticeable change in the numbers of high-end new builds hitting the market, the style of new builds being built or the prices that builders are asking for them?
Greg Rowley There are not many newly built luxury homes hitting the market at all. For the most part, the local custom home builders are pretty maxed out building homes for the eventual occupant, and not as a "spec." In years past, developers would build spec homes to help them sell their vacant lots. Now, with the vacant land sales through the roof and a lack of inventory, there isn't the same need to build and sell new construction, nor are there many builders who can take the job. In terms of costs, I'm very familiar with the market at Black Rock. Last year, we were telling buyers it would cost around $350 per square foot to meet the minimum design requirements. Now, it's north of $450 per square foot. Builders aren't necessarily asking a higher percentage of profit than in years past. But the cost of materials has increased so much that prices have gone up 20-30% or more.
Coldwell Banker Global Luxury Coeur d'Alene is such an interesting market because it offers such a range of properties — you can have a $500,000 retreat or a $30 million custom compound with land. Has it always been this way or is this a recent phenomenon?
Greg Rowley Yes. The ultra high-end market is a fairly recent phenomenon. It all started with the Coeur d'Alene Resort, which was built in the 1980s. The golf course attracted an entirely different level of wealth to the area. And in many cases, they had to build something to suit their tastes because it didn't exist. Since then, Black Rock and Gozzer Ranch, both ranked among the top 100 golf courses in America that were built in 2003 and 2007 respectively, have driven the luxury market, bringing hundreds of high-end home buyers to town.
Pynewoods Estate
Coldwell Banker Global Luxury How out of the ordinary was it to see a contemporary-style estate like the Pynewoods Estate come to the market in Coeur d'Alene?
Greg Rowley It's one-of-a-kind for the area. We very rarely see that grand contemporary style that is more common in places like California or Florida here in Idaho. People who are building second or third homes here usually gravitate towards mountain architecture more in line with the local flavor so it is incredibly unique.
Coldwell Banker Global Luxury What's been the biggest change(s) you've seen in Coeur d'Alene since 2020?
Greg Rowley In my opinion, not much has changed. There's more traffic and more unfamiliar faces around town. But all in all, it's still the same friendly resort town that it's always been.
Coldwell Banker Global Luxury What has been the most surprising thing in 2021 so far?
Greg Rowley To me, the most surprising thing in 2021 is how the market in general really slowed down starting around the first of August. I had expected things to remain at a frenzy pace through the end of the year, like it did in late 2020. But since late summer, things have actually cooled off quite a bit.
Coldwell Banker Global Luxury Any predictions for 2022?
Greg Rowley Realtors don't like to hear it, but I think the market will continue to level out. That mad dash to Idaho that we saw in 2020 and 2021 is subsiding now that other states are reopening and getting back to normal after COVID shut everything down. That is not to say I see prices declining substantially. I just don't see them rising as rapidly as we've seen over the last two years.
Coldwell Banker Global Luxury What about inventory? Greg Rowley The truth is, we have 2,500 realtors in our county and not enough inventory. So staying on top of this business has always been about list
https://blog.coldwellbankerluxury.com/greg-rowley-on-idahos-coeur-dalene-swing-back/